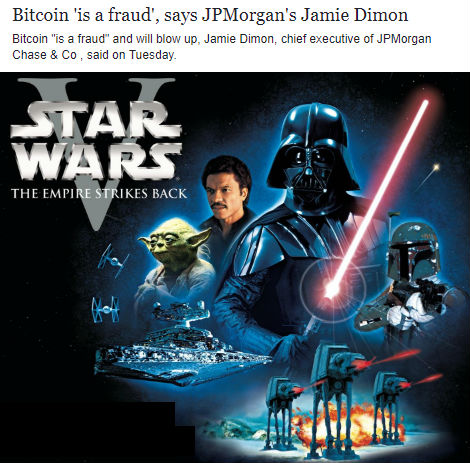 Bitcoin "is a fraud" and will blow up, said Jamie Dimon, chief executive of JPMorgan Chase & Co, on Tuesday, 13th September 2017.
Coming from someone that was responsible to pay 13 billion for the financial crisis.
Load of crap. He said the same thing 2 years ago. The reality is that it threatens banking industry and there's no way of stopping it.
And these info further explain why the statement above:
– Big Business Giants From Microsoft to J.P. Morgan Are Getting Behind Ethereum
– JPMorgan Chase To Integrate Zcash Technology To Its Enterprise Blockchain Platform
Vested interest in Ethereum and ZCash. You bet.
Indeed, Bitcoin has died 160 times.
Big banks like JP Morgan have had a 'monopoly on money' for far too long, and for the first time ever, that's changing.
You just can't stop hundreds of millions of consumers who are fed up with an archaic monetary system that is controlled by a handful of wealthy Wall Streeters.
Be ready to compete against hundreds of thousands of hungry young entrepreneurs ready to solve the problems you've left untouched for decades.